News
Radio kills the Video Stars
Am 24.8. läuft um 19:00 Uhr auf dem Wartburgradio 96,5 im Programm "ProgSpezial" ein ausführliches fast 70 Minuten langes Special über das Empire Magazin mit sehr viel Musik und einem Interview mit unserem Magazingründer und Chefredakteur Michael Bäcker. Die Sendung kann alternativ auch im Internet gestreamt werden – wir wünschen allen unseren Lesern (und Hörern) viel Spaß!
Die Sendung wird am Sonntag, den 29.8. um 20:00 Uhr wiederholt.
30 Jahre Empire Magazin
Die alten Empire-Magazine 1-103 bis 2013 sind nun leider schon lange vergriffen. Zu unserem 30. Jubiläum haben wir aber noch einmal alle 99 Heftcover (es gab insgesamt 4 Doppelhefte) in einer Galerie zusammengestellt und wünschen Euch viel (nostalgischen) Spaß, in den alten Titelbildern zu stöbern...
EMPIRE Heft 141
Die Juli-Ausgabe 2021 ist verschickt und sollte bei allen Abonnenten bis Mitte des Monats angekommen sein. Hier wie immer eine kleine Vorschau auf unsere Themen.
Das Heft kann auch einzeln im Empire-Music oder PPR Online-Shop bestellt werden.
Das alternative "Jewel Case"-Cover für die CD (zum selber Ausdrucken) steht hier in der Download Sektion zur Verfügung.
Das Empire Magazin feiert 2021 seinen 30. Geburtstag. Weil auf der Loreley dieses Jahr nun auch kein kleineres NOTP-Festival stattfinden wird, nutzen wir die Gelegenheit, um statt des traditionellen Festivalprogramms ein Special zu präsentieren, in dem unsere Autoren auf 30 Jahre Empire und ihre eigenen wichtigsten Artikel und Beiträge zurückblicken.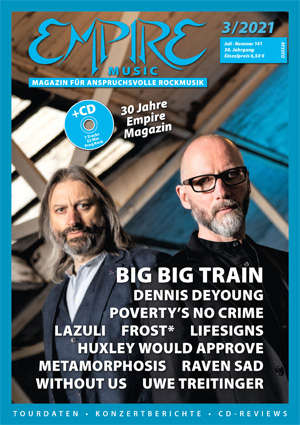 INTERVIEWS
LAZULI (TS)
FROST* (RK)
LIFESIGNS (TS)
BIG BIG TRAIN (TS)
UWE TREITINGER (ROK)
DENNIS DEYOUNG (SM)
HUXLEY WOULD APPROVE (MD)
WITHOUT US (TS)
RAVEN SAD (JM)
METAMORPHOSIS (MD)
POVERTY'S NO CRIME (RK)
LIVE Reviews
›LIKE A JAZZ MACHINE‹ Festival (MP)
MAREK ARNOLD & MANUEL SCHMID (CK|UE)
CD/DVD Reviews
AMOUR VACHE Amour Vache (RK)
ANCIENT VEIL Unplugged Live (JM)
ARCHANGEL Third Warning (MD)
AT THE GROVE ...And All The Fear We Left Behind (STS)
VASKO ATANASOVSKI ADRABESA QUARTET Phoenix (STS)
BIG BIG TRAIN Common Ground (TS)
BLACK SWAN Shake The World (MS)
DAVID BOWIE The Width Of A Circlepro (MP)
DAVID BOWIE Metrobolist& contra (MC)
BILL BRESSLER Normal Boy (MD)
BROERS + KLAZINGA Burdens Of The Mind (MD)
CORPO III (JM)
DEL AMITRI Fatal Mistakes (RK)
DENNIS DEYOUNG 26 East – Vol. II (SM)
DJABE & STEVE HACKETT The Journey Continues (MD)
THE END MACHINE Phase2 (MS)
MARIANNE FAITHFULL & WARREN ELLIS She Walks In Beauty (MC)
FARGO Strangers D'Amour (MS)
MYLÈNE FARMER Les Clips L'Intégrale 1999-2020 (MC)
FIABA Di Gatti Di Rane Di Folletti E D'Altre Storie (JM)
FROST* Day And Age (AS)
PAUL GILBERT Werewolves Of Portland (OM)
GLISTENING DAWN Tales From Beyond... (MD)
GODSPEED YOU! BLACK EMPEROR G_d's Pee At State's End! (MP)
IAN GORDON His Quiet Hands (JM)
GRETA VAN FLEET The Battle At Garden's Gate (RK)
STEVE HOWE Die Autobiographie (PV)
HUXLEY WOULD APPROVE Grave New World Part Two (MD)
JETHRO TULL A (La Mode) (AS)
AYRON JONES Child Of The State (RK)
KAYAK Out Of This World (UE)
LAUGHING STOCK Zero, Acts 1 & 2 (MD)
LAZULI Dénudé (TK)
JOHN LENNON Plastic Ono Band – The Ultimate Mixes (TS)
LESS IS LESSIE The Escape Plan (JM)
LEVARA Levara (RK)
LIFESIGNS Altitude (AS)
LONELY THE BRAVE The Hope List (RK)
MARILLION With Friends At St David's (TK)
ROBIN MCAULEY Standing On The Edge (MS)
LAURA MEADE The Most Dangerous Woman In America (MD)
MESMERISING The Clutters Storyteller (JM)
METAMORPHOSIS I'm Not A Hero (MD)
MEZZ GACANO OzocovonobovO MMXX (JM)
MONO DUAL 721 Zweite Staffel (ROK)
NODO GORDIANO Sonnar (JM)
CLIVE NOLAN Song Of The Wildlands (UE)
OTARION No Time Was Lost (MD)
POVERTY'S NO CRIME A Secret To Hide (TK)
QIRSH Aspera Tempora – Parte 1 (JM)
RARE BIRD Beautiful Scarlet – The Recordings 1969-1975 (MD)
RAVEN SAD The Leaf And The Wing (JM)
THE SAMURAI OF PROG The Lady And The Lion (JM)
SCHERZOO 05 (JM)
THE SLAGS Babytree (STS)
SUBTERRANEAN MASQUERADE Mountain Fever (MD)
TOTO With A Little Help From My Friends (MB)
VOLA Witness (OM)
GHALIA VOLT One Woman Band (PV)
BERNHARD WEISS Rock Chansons (ROK)
EREZ YAARY Memoria Technica (STS)
QUICKIES
RYAN ADAMS Big Colors (RK)
ANANDAMMIDE Earthly Paradise (JM)
JON ANDERSON Animation (OM)
JOAN ARMATRADING Consequences (MC)
ASIA The Reunion Albums 2007-2012 (MD)
AZIOLA CRY The Ironic Divide (MD)
DIE BUBEN IM PELZ Geisterbahn (MD)
THE CATCH Excuses For Kings (MD)
CHA WA My People (RK)
CHEAP TRICK In Another World (MD)
COMMUNIONS Pure Fabrication (RK)
CURRENT JOYS Voyager (RK)
DARWIN DarWin 3: Unplugged (MD)
DEVIL SOLD HIS SOUL Loss (RK)
ECHO US The Windsong Spires (JM)
THE EMERALD DAWN To Touch The Sky (MD)
ESCAPE THE FATE Chemical Warfare (RK)
FIELD MUSIC Flat White Moon (RK)
GENTLE GIANT Free Hand (AS)
LOU GRAMM Questions And Answers: The Atlantic Anthology (1987-1989) (MD)
DAVID GRAY Skellig (RK)
GREENSLADE Temple Songs (TS)
STEFANIE HEINZMANN Labyrinth (MP)
HANS HJELM Factory Reset (MD)
ESA HOLOPAINEN Silver Lake (RK)
THOMAS FRANK HOPPER Bloodstone (RK)
ISLAND Yesterday Park (RK)
SRDJAN IVANOVIC BLAZIN' QUARTET Sleeping Beauty (MD)
KANSAS Point Of Know Return – Live & Beyond (AS)
MYLES KENNEDY The Ides Of March (RK)
THE MARCUS KING BAND Soul Insight (RK)
LOCH VOSTOK Opus Ferox – The Great Escape (RK)
MAJOR PARKINSON Twilight Cinema (MD)
MELANCHOLIC PROSPERITY Contents Under Pressure (MD)
MINDANCE Cosmically Nothing (JM)
MISH Entheogen (MD)
MUSHROOM GIANT Painted Mantra (MD)
THE OFFSPRING Let The Bad Times Roll (RK)
MILES OLIVER Between The Woods (MD)
OMEGA Working (MD)
OPEN ROAD Windy Daze (MD)
OPETH Blackwater Park (TS)
PATTO Give It All Away, The Albums (1970-1973) (MD)
PEE WEE BLUESGANG Red Socks (MD)
ALDO PINELLI Desde La Abadía (JM)
POOR GENETIC MATERIAL Spring Tidings (MD)
PROCOL HARUM Missing Persons (MD)
REACH The Promise Of A Life (MD)
THE SONDER BOMBS Clothbound (RK)
AL STEWART Year Of The Cat (MD)
OLE TEIGEN Aske Og Jord (MD)
THUNDERMOTHER Heat Wave (RK)
VARIOUS ARTISTS The Official Keith Emerson Tribute Concert – Fanfare For The Uncommon Man (RK)
THE VENDETTAS III (RK)
WALKING ON RIVERS Time To Lose Control (RK)
PER WIBERG All Is Well In The Land Of The Living But For The Rest Of Us... Lights Out (RK)
CHRIS WICKED Aleine (MD)
NANCY WILSON You And Me (RK)
FRANK ZAPPA Zappa '88 – The Last U.S. Show (TS)
EMPIRE Heft 124
Im Heft 124 haben wir unter anderem auch ein neues Interview mit Anna von Hausswolff - die sich sichtlich über das letzte freute...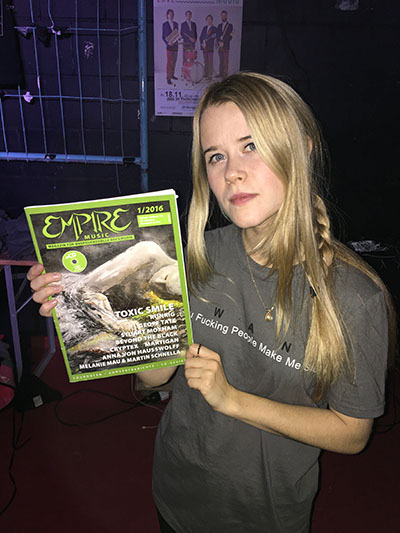 Neuer EMPIRE-MUSIC Mailorder-Shop
Wie Ihr auch schon der Anzeige im Heft 123 entnommen habt, schloss am 26.12. nach über 2 Jahrzehnten der alte Online-Shop von Michael Bäcker unter der Adresse empire-music.de.
In Zukunft findet Ihr sein großes CD- und DVD-Angebot in seinem neuen Shop auf der Plattform Discogs, am einfachsten über diese neue Adresse:
Leider können die Kontodaten des alten Shops nicht in den neuen Discogs-Shop übertragen werden, Ihr müsst Euch daher entweder einfach bei Discogs neu anmelden, oder Ihr könnt Euch auch mit einem bestehenden Facebook- oder Google-Account einloggen. Michael bedankt sich bei allen treuen Kunden des alten Shops und hofft, Euch alle im Shop auf Discogs mit neuen, besseren Suchfiltern und ausführlichen Infos zu jeder CD wiederzusehen.
NEU EMPIRE Sonderheft 2
Das erste EMPIRE MUSIC Sonderheft bekommt eine Fortsetzung mit allen Bands, die letztes Jahr auf dem "Night of the Prog" Festival 2016 gespielt haben... "Another Day in the Life of a Festival".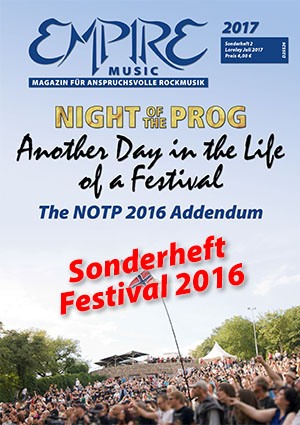 Bestellung und alle Einzelheiten dazu auf der Sonderseite www.empiremusic.de/loreley
EMPIRE Heft 120
Auch Steve Hackett ist seit vielen Jahren Fan und Unterstützer unseres Magazins und wurde in Empire 120 interviewt...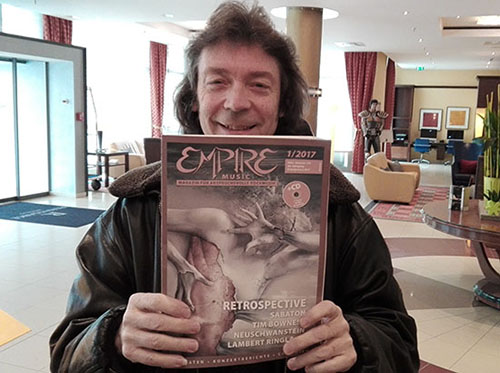 EMPIRE Heft 120
Im Heft 120 haben wir ein Interview mit dem Ayreon-Mastermind Arjen Anthony Lucassen - der seit vielen Jahren ein bekennender Fan vom Empire-Magazin und seiner Sampler-CD ist, wie er uns auch stolz zeigt...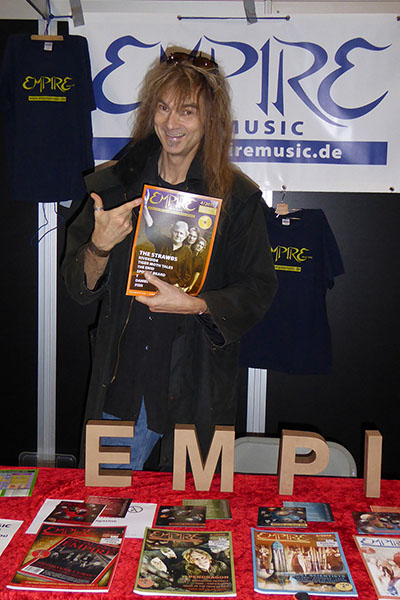 EMPIRE Sonderheft 1
Das erste EMPIRE MUSIC Sonderheft: Zum Anlass des 10. Jubiläums des "Night of the Prog" Festivals in diesem Jahr - und im 25. Jahr unseres Magazins - erschien das große und opulent bebilderte Jubiläumsheft "A Day in the Life of a Festival".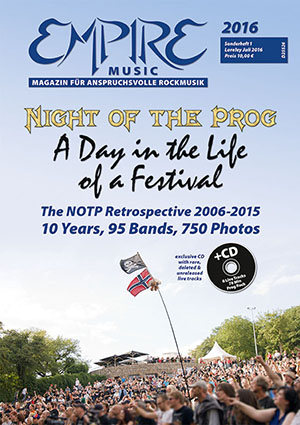 Bestellung und alle Einzelheiten dazu auf der Sonderseite www.empiremusic.de/loreley