News
EMPIRE Heft 128
Die Dezember-Ausgabe ist in der Post und sollte bei allen Abonnenten angekommen sein. Hier wie immer eine kleine Vorschau auf unsere Themen.
Das Heft kann auch einzeln im Empire-Music oder PPR Online-Shop bestellt werden.
Das alternative "Jewel Case"-Cover für die CD (zum selber Ausdrucken) steht hier in der Download Sektion zur Verfügung.
Wir wünschen Euch viel Spaß beim Lesen, ein Frohes Weihnachtsfest und ein Gutes Neues Jahr!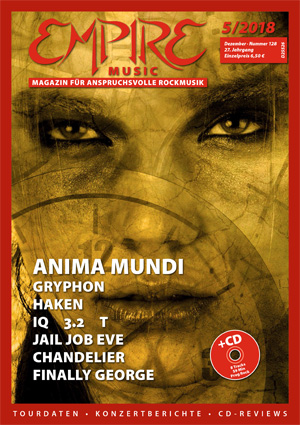 INTERVIEWS
ANIMA MUNDI (CT)
HAKEN (SM)
IQ (TS)
GRYPHON (MD)
T / THOMAS THIELEN (CT)
3.2 / ROBERT BERRY (TS)
CHANDELIER (OM)
FINALLY GEORGE (TS)
JAIL JOB EVE (TS)
LIVE Reviews
NICK MASON ›Saucerful Of Secrets‹ (MP)
LEPROUS (MO)
JOE BONAMASSA (BK)
STERN–COMBO MEISSEN (BK)
THE MUSICAL BOX (RK)
ANIMA MUNDI (UE)
TRAUMPFAD (MO)
›2 DAYS PROG+1‹ (ROK)
›GERMAN KULTROCK FESTIVAL‹ (MO)
›ELECTRIC CAVE FESTIVAL‹ (STS)
CD/DVD Reviews
AENEAS Paradox (SM)
ANATHEMA Internal Landscapes 2008–2018 (RK)
ANIMA MUNDI Insomnia (UE)
ANN MY GUARD Moira (JM)
ANYONE'S DAUGHTER Last Tracks (JM)
AYREON Into The Electric Castle (OM)
MARTIN BARRE Roads Less Travelled (MD)
BEYOND THE BLACK Heart Of The Hurricane (MS)
BLANK MANUSKRIPT Studio–Live–Session (JM)
JOE BONAMASSA Redemption (MS)
BONFIRE Legends (SM)
BRAINSTORM Midnight Ghost (MS)
THE BREW Art Of Persuasion (RK)
CARPTREE Subimago (MB)
CHANDELIER Pure | Facing Gravity (OM)
CURVED AIR Second Album (MD)
THE D PROJECT Find Your Sun (MD)
DAMANEK In Flight (JM)
DEAD CAN DANCE Dionysus (MP)
DWIKI DHARMAWAN Rumah Batu (MD)
DIALETO Bartók In Rock (JM)
DJABE & STEVE HACKETT Life Is A Journey - The Budapest Live Tapes (MD)
THE FALSE POETS Cosmo Poems (MS)
MYLÈNE FARMER Désobéissance (MP)
FINALLY GEORGE Life Is A Killer (MD)
FISH A Parley With Angels (TS)
FRÉDÉRIC GERCHAMBEAU & BERTRAND LOREAU Catvaratempo (OM)
ANNEKE VAN GIERSBERGEN Symphonized (SM)
GÖSTA BERLINGS SAGA Et Ex (SM)
GREY CZAR Boondoggle (MO)
STEVE HACKETT Broken Skies Outspread Wings (AS)
HAKEN Vector (SM)
HEAD WITH WINGS From Worry To Shame (MO)
THE JIMI HENDRIX EXPERIENCE Electric Ladyland (TS)
THE HOLY Daughter (RK)
IQ Ever (JM)
JAIL JOB EVE The Mission (TS)
KARCIUS The Fold (MD)
THE KINKS Are The Village Green Preservation Society (MC)
ESA KOTILAINEN Jäänalainen II (JM)
LEGACY PILOTS Con Brio (MD)
JOHN LENNON Imagine (TS)
JOHN LENNON & YOKO ONO Imagine & Gimme Some Truth (TS)
LIGHT DAMAGE Numbers (MD)
MARCHESI SCAMORZA Gemini (MD)
PAUL MCCARTNEY Egypt Station (TS)
MØ Forever Neverland (MS)
MOONGARDEN Align Myself To The Universe (MD)
NOSOUND Allow Yourself (MD)
O.A.K. Giordano Bruno (MD)
OAK False Memory Archive (MD)
ODENWÄLDER SHANTY CHOR DORSCHt (MC)
THE OUTER SONICS 2 (JM)
OVERHEAD Haydenspark (MB)
STEVE PERRY Traces (TS)
PÕHJA KONN Põhja Konn (MD)
PYMLICO Nightscape (MD)
R.E.M. At The BBC (TS)
REALE ACCADEMIA DI MUSICA Angeli Mutanti (JM)
RETROSPECTIVE Stolen Thoughts (MD)
RIVERSIDE Wasteland (MO)
SAGA So Good So Far - Live At Rock Of Ages (AS)
FRANK SCHÄFER Burg Herzberg Festival - Since 1968 (ROK)
KLAUS SCHØNNING Lydglimt II (JM)
3.2 The Rules Have Changed (TS)
TIGER MOTH TALES Story Tellers Part Two (TK)
EMMA TRICCA St. Peter (MP)
TWELFTH NIGHT Sequences (RK)
22 You Are Creating (RK)
WALZWERK WalzWerk (MD)
WE WERE PROMISED JETPACKS The More I Sleep The Less I Dream (RK)
STEVEN WILSON Home Invasion - In Concert At The Royal Albert Hall (RK)
MARK WINGFIELD Tales From The Dreaming City (MD)
YESTERDAYS Senki Madara (JM)
ZAZIE Essenciel (MC)
PINK FLOYD AUSSTELLUNG ›Their Mortal Remains‹ (MP)
QUICKIES
ACTION & TENSION & SPACE Skåredalen Funhouse (MD)
ALWANZATAR Fangarmer Gjennom Tid Og Rom (MD)
BLACKBERRIES Disturbia (MD)
BLACKFIELD Open Mind - The Best Of Blackfield (JK)
NENEH CHERRY Broken Politics (RK)
THE CLOUDS WILL CLEAR Recollection Of What Never Was (MD)
MARK DALY When The Stars Align (MD)
DESPERADO Haltet Aus! Desperado Kommt... Live! (MD)
DOWNPILOT This Is The Sound (RK)
COLIN EDWIN & LORENZO FELICIATI Twinscapes V.02: A Modern Approach To The Dancefloor (JM)
FIDO PLAYS ZAPPA Atlantis And Elsewhere (MD)
FOXING Nearer My God (RK)
THE GARDENER & THE TREE 69591, Laxå (RK)
GREENSLADE Greenslade (MD)
JET BLACK SEA The Overview Effect (JM)
LJUNGBLUT Villa Carlotta 5959 (MD)
PAVALLION Stratospheria (MD)
PAVLOV'S DOG Prodigal Dreamer (MD)
THE KEITH REID PROJECT In My Head (MD)
RENAISSANCE Prologue (MD)
REO SPEEDWAGON The Early Years 1971–1977 (MD)
RING VAN MÖBIUS Past The Evening Sun (MD)
ROBERT SCHROEDER Spaceland (OM)
SIPHER Atlas (MD)
SKY Carillon - (MD)
STRIKER Play To Win (JK)
SUN TEMPLE CIRCUS Sun Temple Circus (MD)
THE TOURIST One (RK)
TRI ATMA Tri Atma (MD)
URIAH HEEP Living The Dream (AS)
ANN WILSON Immortal (MD)
TMB TOUR-SPECIAL
Auf der Tour von The Musical Box bieten wir aktuell die "Prog Box 1" mit 15 Empire Sampler-CDs zum Sonderpreis an. Die Box wird dort in der Halle am Empire-Stand vor Ort verkauft und am Ende der Tour auch in unseren Online-Shops angeboten.
Leider konnten wir aus personellen Gründen bei einigen Konzert-Terminen keinen eigenen Empire-Stand anbieten. Wer unseren Flyer gelesen hat und die Box gleich bestellen möchte, kann uns bitte per Mail wegen der Bestellung kontaktieren.
EMPIRE Heft 124
Im Heft 124 haben wir unter anderem auch ein neues Interview mit Anna von Hausswolff - die sich sichtlich über das letzte freute...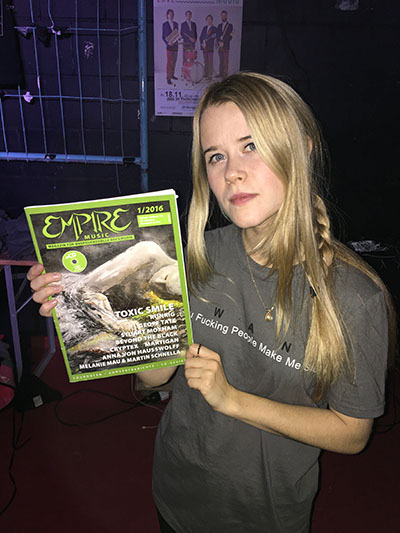 Neuer EMPIRE-MUSIC Mailorder-Shop
Wie Ihr auch schon der Anzeige im Heft 123 entnommen habt, schloss am 26.12. nach über 2 Jahrzehnten der alte Online-Shop von Michael Bäcker unter der Adresse empire-music.de.
In Zukunft findet Ihr sein großes CD- und DVD-Angebot in seinem neuen Shop auf der Plattform Discogs, am einfachsten über diese neue Adresse:
Leider können die Kontodaten des alten Shops nicht in den neuen Discogs-Shop übertragen werden, Ihr müsst Euch daher entweder einfach bei Discogs neu anmelden, oder Ihr könnt Euch auch mit einem bestehenden Facebook- oder Google-Account einloggen. Michael bedankt sich bei allen treuen Kunden des alten Shops und hofft, Euch alle im Shop auf Discogs mit neuen, besseren Suchfiltern und ausführlichen Infos zu jeder CD wiederzusehen.
NEU EMPIRE Sonderheft 2
Das erste EMPIRE MUSIC Sonderheft bekommt eine Fortsetzung mit allen Bands, die letztes Jahr auf dem "Night of the Prog" Festival 2016 gespielt haben... "Another Day in the Life of a Festival".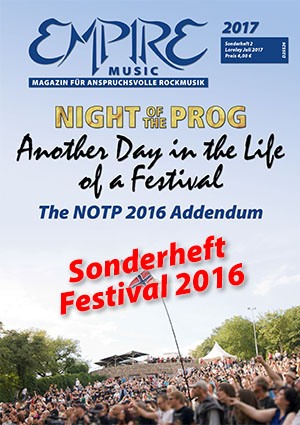 Bestellung und alle Einzelheiten dazu auf der Sonderseite www.empiremusic.de/loreley
EMPIRE Heft 120
Auch Steve Hackett ist seit vielen Jahren Fan und Unterstützer unseres Magazins und wurde in Empire 120 interviewt...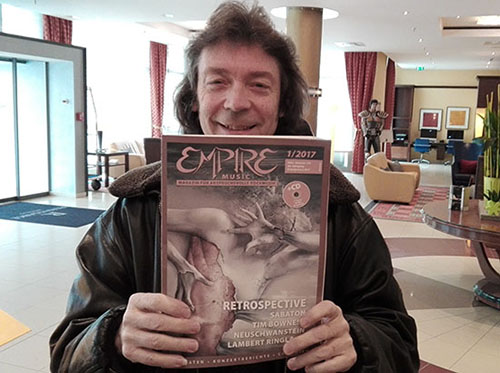 EMPIRE Heft 120
Im Heft 120 haben wir ein Interview mit dem Ayreon-Mastermind Arjen Anthony Lucassen - der seit vielen Jahren ein bekennender Fan vom Empire-Magazin und seiner Sampler-CD ist, wie er uns auch stolz zeigt...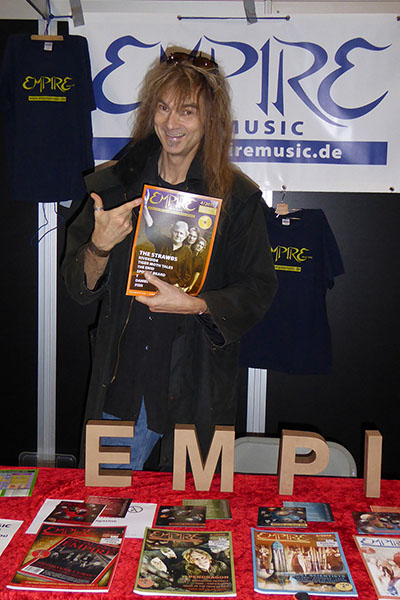 EMPIRE Sonderheft 1
Das erste EMPIRE MUSIC Sonderheft: Zum Anlass des 10. Jubiläums des "Night of the Prog" Festivals in diesem Jahr - und im 25. Jahr unseres Magazins - erschien das große und opulent bebilderte Jubiläumsheft "A Day in the Life of a Festival".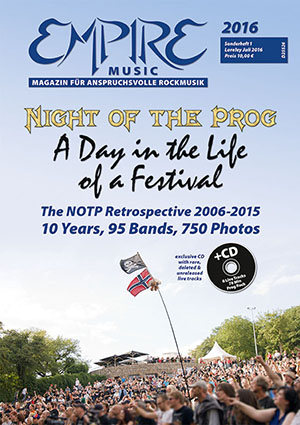 Bestellung und alle Einzelheiten dazu auf der Sonderseite www.empiremusic.de/loreley