News
EMPIRE Heft 120
Auch Steve Hackett ist seit vielen Jahren Fan und Unterstützer unseres Magazins und wird in der kommenden Ausgabe von Empire Music interviewt...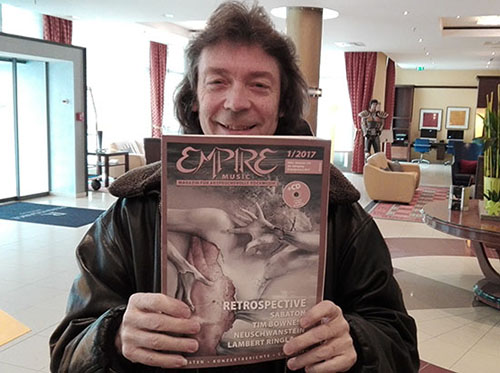 Die Mai-Ausgabe ist in die Post gegangen und sollte bei allen Abonnenten angekommen sein. Hier wie immer eine kleine Vorschau auf unsere Themen.
Das Heft kann auch einzeln im Empire-Music oder PPR Online-Shop bestellt werden.
Das alternative "Jewel Case"-Cover für die CD (zum selber Ausdrucken) steht hier in der Download Sektion zur Verfügung.
Wir wünschen Euch viel Spaß beim Lesen!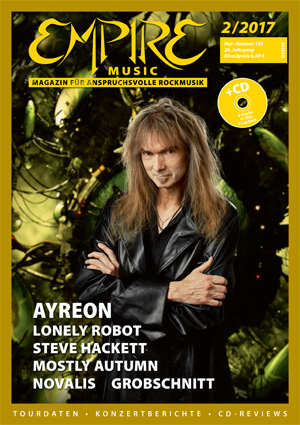 INTERVIEWS
AYREON (SM)
STEVE HACKETT (MD)
MOSTLY AUTUMN (UE)
LONELY ROBOT (SM)
NOVALIS (TS)
GROBSCHNITT (TS)
LIVE Reviews
DREAM THEATER (BK)
BRAD MEHLDAU (MP)
THE GLOAMING (MP)
STILLER HAS (MC)
DAVE MATTHEWS & TIM REYNOLDS (MP)
MR. PUNCH (UE)
THE TIGER LILLIES (MO)
CRUISE TO THE EDGE 2017 (VW)
MARILLION WEEKEND (BK)
ARTROCK FESTIVAL V (BK|UE|KT)
CD/DVD Reviews
22 You Are Creating: Limb1 (RK)
AGUSA Katarsis (MD)
THE AURORA PROJECT World Of Grey (JM)
AYREON The Source (MD)
BARCLAY JAMES HARVEST XII (MD)
BAROCK PROJECT Detachment (MD)
CITIZEN CAIN'S STEWART BELL The Antechamber Of Being (Part 2) (MD)
TIM BLAKE Crystal Machine | Blake's New Jerusalem | Magick (MD)
BONFIRE Byte The Bullet (SM)
ROLAND BÜHLMANN Bailenas (MD)
CAST Power And Outcome (MD)
NICK CAVE & THE BAD SEEDS Skeleton Tree (MP)
CINEMA The Discovering Of Time (MD)
CREAM Fresh Cream (JK)
DEAF HAVANA All These Countless Nights (RK)
DEEP IMAGINATION Carefully Kept Secrets (MD)
DEEP PURPLE InFinite (TS)
BOB DYLAN Triplicate (MP)
EDENBRIDGE The Great Momentum (MS)
MARK EITZEL Hey Mr Ferryman (MP)
THE ELECTRIC FAMILY Terra Circus (MD)
EVERSHIP Evership (MD)
CHRISTIAN FIESEL Hagen's Delight (JM)
THE FLAME Lifelines (MB)
FORCE OF PROGRESS Calculated Risk (MD)
DAVID E. GEHLKE Systemstörung (MS)
GROBSCHNITT Solar Movie (TS)
HABELARD2 Maybe (JM)
STEVE HACKETT The Night Siren (AS)
STEVE HACKETT & DJABE Summer Storms & Rocking Rivers (MD)
HAKEN Aquarius | Visions (SM)
HOLLOW WATER Rainbow's End (MD)
MICHAEL HOLMES Subterranea (JM)
HOTEI Strangers (SM)
HURRAY FOR THE RIFF RAFF The Navigator (MP)
IL RUMORE BIANCO Antropocene (JM)
IT We're All In This Together (MD)
KELLERKIND BERLIN Songs For Travelling... (JM)
ALISON KRAUSS Windy City (MP)
LAST KNIGHT Talking To The Moon (MD)
THE LIGHT AFTERNOON The History Of Mr Puffin Man (JM)
LONELY ROBOT The Big Dream (RK)
WOLF MAAHN Live & Seele (SM)
AMY MACDONALD Under Stars (MS)
PAT MASTELOTTO & MARKUS REUTER Face (JM)
MIKE AND THE MECHANICS Let Me Fly (TS)
THE NEAL MORSE BAND Morsefest 2015 (SM)
MOSTLY AUTUMN Sight Of Day (UE)
NEXUS En El Comienzo (JM)
NIGHT RANGER Don't Let Up (MS)
NOVALIS Schmetterlinge (TS)
OAK Lighthouse (MD)
PINK FLOYD Animals | The Final Cut | A Momentary Lapse Of Reason (JK)
PRINCIPAL EDWARDS MAGIC THEATRE The Works 1969-1971 (MD)
PROCOL HARUM Novum (TS)
PROFESSOR TIPTOP Exobiology (MD)
CHUCK PROPHET Bobby Fuller Died For Your Sins (MP)
QANTUM Le Passage (JM)
QUINTESSENCE Move Into The Light - The Complete Island Recordings 1969-1971 (MD)
ALAN REED Honey On The Razor's Edge (AS)
THE RESIDENTS The Ghost Of Hope (MD)
THORBJØRN RISAGER Change My Game (MS)
SEQUENTIA LEGENDA Extended (JM)
SONIQ THEATER The Journey (JM)
SOUNDS LIKE THE Stories (MD)
ST. KITTS ROYAL ORCHESTRA Isadora (MD)
STREETMARK Eileen (MD)
SUBMARINE SILENCE Journey Through Mine (MD)
TAPROBAN Per Aspera Ad Astra (JM)
TONY TRALONGO'S COCOON Zodiac (JM)
UNICORN Blue Pine Trees | Too Many Crooks | One More Tomorrow (MD)
V2 Showdown (MD)
VANGELIS Delectus (JK)
VARIOUS ARTISTS Brain - The Box 1972-1979 (TS)
QUICKIES
RICHARD BARBIERI Planets + Persona (RK)
BLACK MAP In Droves (RK)
BLACKFIELD V (RK)
DAMNATIONS DAY A World Awakens (JK)
DEACON BLUE Live At The Glasgow Barrowlands (RK)
KEITH EMERSON Off The Shelf (MD)
EMPIRE Hypnotica (JK)
ENGLAND The Last Of The Jubblies (AS)
HAWKWIND Into The Woods (MD)
JETHRO TULL The String Quartets (AS)
LIFE IN 24 FRAMES Ctrl+Z (RK)
PIERRE VAN DER LINDEN Drum Poetry (MD)
LOWER THAN ATLANTIS Safe In Sound (RK)
MEW Visuals (RK)
MINUS THE BEAR Voids (RK)
MOMBASA Shango Over Devil's Moor (MD)
PATTO Hold Your Fire (MD)
THE PERC Koto Funk (MD)
PHYRIA The Colors Among Us (RK)
PYRAMAZE Contingent (JK)
SAID THE WHALE As Long As Your Eyes Are Wide (RK)
BILLY SHERWOOD At The Speed Of Life... (MD)
SIENA ROOT A Dream Of Lasting Peace (RK)
STRAND OF OAKS Hard Love (RK)
TAGES Studio (MD)
WILLE & THE BANDITS Steal (RK)
WIRTZ Best Of 2007-2017 (RK)
ZEAL & ARDOR Devil Is Fine (RK)
FROHE OSTERN 2017
Wir wünschen allen unseren Lesern ein frohes Osterfest, und als kleines Osterei können wir schon verraten, dass wir im nächsten Heft #120 ein Interview mit dem Ayreon Mastermind Arjen Anthony Lucassen haben werden - der seit vielen Jahren ein bekennender Fan vom Empire-Magazin und seiner Sampler-CD ist, wie er uns auch stolz zeigt...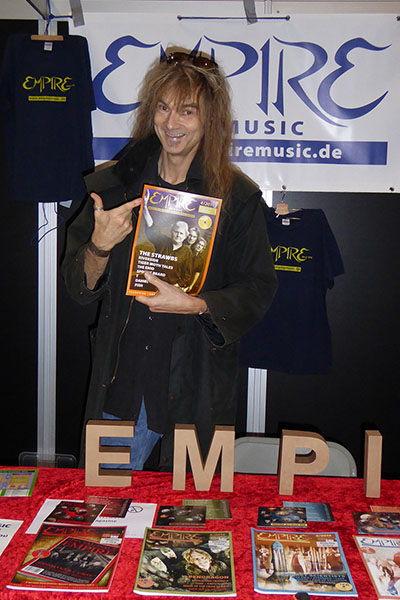 EMPIRE Sonderheft
Das erste EMPIRE MUSIC Sonderheft wurde verschickt. Zum Anlass des 10. Jubiläums des "Night of the Prog" Festivals in diesem Jahr - und im 25. Jahr unseres Magazins - erschien das große und opulent bebilderte Jubiläumsheft "A Day in the Life of a Festival".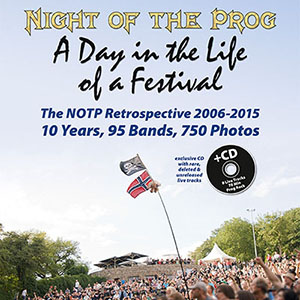 Bestellung und alle Einzelheiten dazu auf der Sonderseite www.empiremusic.de/loreley