News
EMPIRE Heft 124
Die März-Ausgabe ist in die Post gegangen und sollte bei allen Abonnenten angekommen sein. Hier wie immer eine kleine Vorschau auf unsere Themen.
Das Heft kann auch einzeln im Empire-Music oder PPR Online-Shop bestellt werden.
Das alternative "Jewel Case"-Cover für die CD (zum selber Ausdrucken) steht hier in der Download Sektion zur Verfügung.
Wir wünschen Euch viel Spaß beim Lesen!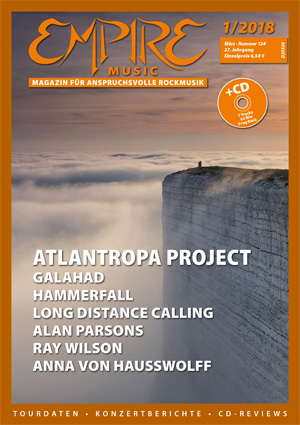 INTERVIEWS
GALAHAD (TS)
ALAN PARSONS (TS)
ATLANTROPA PROJECT (TS)
ANNA VON HAUSSWOLFF (VS)
LONG DISTANCE CALLING (SM)
RAY WILSON (TS)
HAMMERFALL (VS)
LIVE Reviews
SCHNAPS IM SILBERSEE (STS)
BENJAMIN CLEMENTINE (MP)
BILLY BRAGG (MC)
SÓLSTAFIR & ÁRSTIÐIR / MYRKUR (MO)
CHANGO & LES LEKIN (MO)
MICHEL SARDOU (MP)
ROBERT FORSTER Grant & Ich (MC)
CD/DVD Reviews
LEE ABRAHAM Colours (MD)
ALDI DALLO SPAZIO QuasAr (JM)
ALIANTE Forme Libere (JM)
ERIC ANDERSEN Silent Angel: Fire And Ashes Of Heinrich Böll (TS)
ARMED CLOUD Master Device & Slave Machines (JM)
ATLANTROPA PROJECT Atlantropa Project (TS)
BABYMETAL Metal Resistance (SHK)
BANCO DEL MUTUO SOCCORSO Io Sono Nato Libero (TS)
THE BLACK Divided We Fall (MD)
HERVÉ BORBÉ The Man Who Saw Himself From Behind (JM)
CARAVELA ESCARLATE Caravela Escarlate (JM)
CHARLIE CAWOOD The Devine Abstract (MD)
CHANGO 14 Dag Extra (MO)
CHROMIUM HAWK MACHINE Annunaki (JM)
CLOUDS CAN Leave (RK)
COMEDY OF ERRORS House Of The Mind (TS)
KOOS J. THÖNISSEN'S Pandor (MD)
JENNY DARREN Ladykiller (JM)
DELUGE GRANDER Oceanarium (MD)
DESERT WIZARDS Beyond The Gates (JM)
THE DOORS Live At The Isle Of Wight Festival 1970 (TS)
DOWNES BRAIDE ASSOCIATION Skyscraper Souls (MD)
DR. AFTERSHAVE In The Diving Bell (MD)
ANNELI DRECKER Revelation For Personal Use (TS)
DUKES OF THE ORIENT Dukes Of The Orient (MB)
BOB DYLAN Trouble No More (MP)
EARTHRISE Day 2 (JM)
EELA CRAIG Virgin Oiland (MD)
JEFF LYNNE'S ELO Wembley Or Bust (TS)
EMBRYO Umsonst Und Draußen - Vlotho 1977 (MD)
ENORM The First Run - Live (MD)
FAITHFUL BREATH Fading Beauty | Back On My Hill (MD)
THE FALL Singles 1978-2016 (MC)
FIZBERS First Mind (MD)
THE FORTY DAYS The Colour Of Change (JM)
CHARLOTTE GAINSBOURG Rest (MP)
GALAHAD Seas Of Change (TS)
GILA Free Electric Sound (MD)
HABELARD2 Hustle & Bustle (JM)
STEVE HACKETT Wuthering Nights: Live In Birmingham (AS)
HANGOVER PARADISE Out Of Sight (MD)
VON HERTZEN BROTHERS War Is Over (RK)
HOMELESS KINGS Broken Queen (MO)
VIRGIL & STEVE HOWE Nexus (SM)
GLENN HUGHES Building The Machine | Songs In The Key Of Rock (MD)
IRON MAIDEN The Book Of Souls: Live Chapter (MP)
ISILDURS BANE Off The Radar (MD)
ISPROJECT The Archinauts (MD)
KAIPA DA CAPO Live (JM)
KANSAS Leftoverture Live & Beyond (AS)
KAYAK Seventeen (SM)
KING CRIMSON Earthbound (PV)
KING CRIMSON Sailors' Tales (AS)
KOYO Koyo (RK)
LONG DISTANCE CALLING Boundless (SM)
LOOKING-GLASS LANTERN Candlelight And Empire (MD)
JOHANNES LULEY Qitara (MD)
LUNATIC SOUL Fractured (TS)
RICHARD MACPHAIL My Book Of Genesis (MC)
MAGICK TOUCH Blades, Chains, Whips & Fire (MS)
MAGNUM Lost On The Road To Eternity (JK)
MARALEWO Zwischenzone (JM)
MARYGOLD One Light Year (MD)
MELANIE MAU & MARTIN SCHNELLA Gray Matters - Live In Concert | The Oblivion Tales (MD)
AL DI MEOLA Opus (SM)
MILLENIUM 44 Minutes (MD)
MORPHEUS Restless Dreams (MD)
NEAL MORSE Life & Times (SM)
EDDIE MULDER In A Lifetime (MD)
ORPHEUS NINE Transcendental Circus (MD)
OZ Transition State (MS)
PAPIR V (JM)
THE ALAN PARSONS PROJECT Eye In The Sky (TS)
PENDRAGON Masquerade 20 (MB)
THE PERC MEETS THE HIDDEN GENTLEMAN & THE LAVENDER ORCHESTRA Praha (MD)
PERFECT BEINGS Vier (RK)
PLAYGROUNDED In Time With Gravity (RK)
PROJECT: PATCHWORK Re|Flection (MD)
QUEEN News Of The World (JK)
QUICKSAND Interiors (RK)
RICCARDO ROMANO LAND B612 (BK)
ROYAL SERVANTS We (MD)
MATTHEW RYAN Hustle Up Starlings (RK)
SEMIRAMIS Frazz Live (JM)
A SILENT SOUND Compass (JM)
SILOAH Siloah | Sukram Gurk (MD)
SIMPLE MINDS Walk Between Worlds (TS)
SKYCLAD The Wayward Sons Of Mother Earth | A Burnt Offering For The Bone Idol | Jonah's Ark | Prince Of The Poverty Line | The Silent Whales Of Lunar Sea (JK)
SKYCLAD Forward Into The Past (MS)
SONIC SIGHT Anthropology (MD)
SONS OF APOLLO Psychotic Symphony (MS)
RICK SPRINGFIELD The Snake King (RK)
STARSABOUT Longing For Home | (MD)
STING Live At The Olympia Paris (TS)
STRAWBS The Ferryman's Curse (TS)
SWUNK Soundscapes (MD)
TDW The Antithetic Affiliation (JM)
TIGER MOTH TALES The Depths Of Winter (TS)
TOTO 40 Trips Around The Sun (SM)
SHANIA TWAIN Now (MP)
U2 Songs Of Experience (MP)
LAURENT VOULZY Belem (TS)
WINGFIELD REUTER SIRKIS Lighthouse (JM)
THE XCERTS Hold On To Your Heart (RK)
TAPIO YLINEN Left Unsaid (JM)
QUICKIES
THE ADEKAEM Sound Coloring (MD)
BLUE DAWN Edge Of Chaos (JM)
CHARMING TIMUR So Far So Good (MD)
DRIFTING SUN Safe Asylum (MD)
INNERSPACE Rise (MD)
LA JANARA La Janara (JM)
MARS PROJECT Insomnia (MD)
BILL NELSON Dreamy Screens: Soundtracks From The Echo Observatory (MD)
THE NEW SPRING Wholly Wholly (MD)
NO-MAN Returning Jesus (JK)
OSMOSIS Osmosis (MD)
PHANTOM WINTER Into Dark Science (MD)
PSION Psion (JM)
BJØRN RIIS Coming Home (MD)
TODD RUNDGREN All Sides Of The Roxy - May 1978 (MD)
THE SHADOW LIZZARDS The Shadow Lizzards (MD)
SONIQ THEATER Squaring The Circle (MD)
SPIRIT DESIRE Distract Your Mind (RK)
VARIOUS ARTISTS I Said, She Said, Ah Cid - The Exploito Psych World Of Alshire Records 1967-71 (MD)
STEVEN WILSON Last Day Of June - The Complete Game Soundtrack (TS)
YES Topographic Drama (JK)
EMPIRE Heft 124
Im Heft 124 haben wir unter anderem auch ein neues Interview mit Anna von Hausswolff - die sich sichtlich über das letzte freute...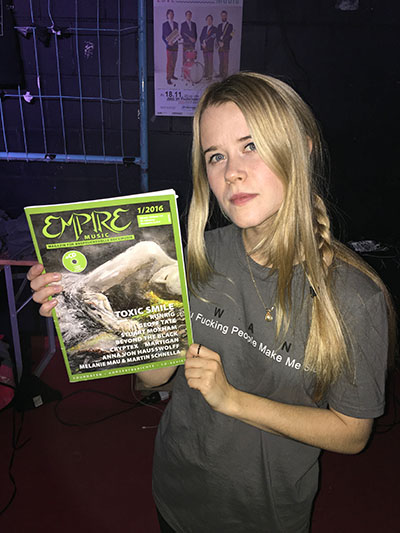 Neuer EMPIRE-MUSIC Mailorder-Shop
Wie Ihr auch schon der Anzeige im Heft 123 entnommen habt, schloss am 26.12. nach über 2 Jahrzehnten der alte Online-Shop von Michael Bäcker unter der Adresse empire-music.de.
In Zukunft findet Ihr sein großes CD- und DVD-Angebot in seinem neuen Shop auf der Plattform Discogs, am einfachsten über diese neue Adresse:
Leider können die Kontodaten des alten Shops nicht in den neuen Discogs-Shop übertragen werden, Ihr müsst Euch daher entweder einfach bei Discogs neu anmelden, oder Ihr könnt Euch auch mit einem bestehenden Facebook- oder Google-Account einloggen. Michael bedankt sich bei allen treuen Kunden des alten Shops und hofft, Euch alle im Shop auf Discogs mit neuen, besseren Suchfiltern und ausführlichen Infos zu jeder CD wiederzusehen.
NEU EMPIRE Sonderheft 2
Das erste EMPIRE MUSIC Sonderheft bekommt eine Fortsetzung mit allen Bands, die letztes Jahr auf dem "Night of the Prog" Festival 2016 gespielt haben... "Another Day in the Life of a Festival".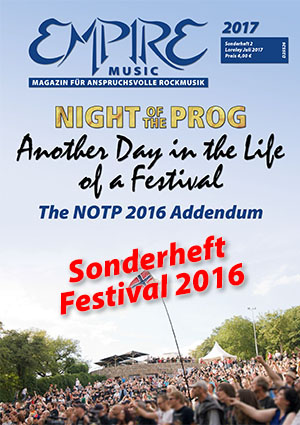 Bestellung und alle Einzelheiten dazu auf der Sonderseite www.empiremusic.de/loreley
EMPIRE Heft 120
Auch Steve Hackett ist seit vielen Jahren Fan und Unterstützer unseres Magazins und wurde in Empire 120 interviewt...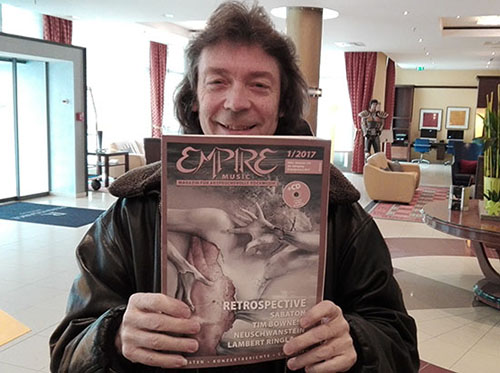 EMPIRE Heft 120
Im Heft 120 haben wir ein Interview mit dem Ayreon-Mastermind Arjen Anthony Lucassen - der seit vielen Jahren ein bekennender Fan vom Empire-Magazin und seiner Sampler-CD ist, wie er uns auch stolz zeigt...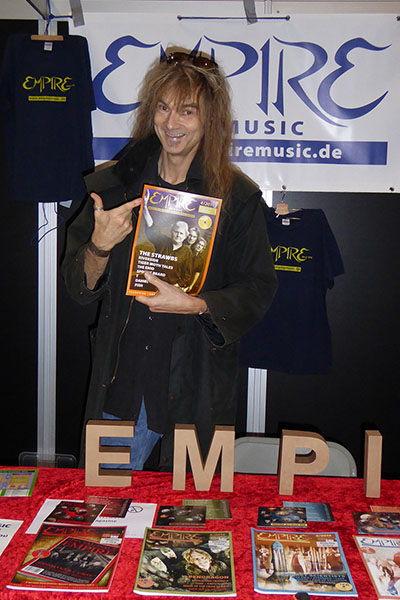 EMPIRE Sonderheft 1
Das erste EMPIRE MUSIC Sonderheft: Zum Anlass des 10. Jubiläums des "Night of the Prog" Festivals in diesem Jahr - und im 25. Jahr unseres Magazins - erschien das große und opulent bebilderte Jubiläumsheft "A Day in the Life of a Festival".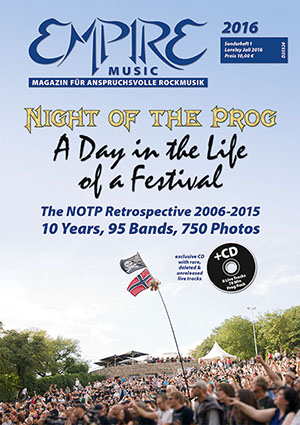 Bestellung und alle Einzelheiten dazu auf der Sonderseite www.empiremusic.de/loreley