News
FROHE OSTERN 2017
Wir wünschen allen unseren Lesern ein frohes Osterfest, und als kleines Osterei können wir schon verraten, dass wir im nächsten Heft #120 ein Interview mit dem Ayreon Mastermind Arjen Anthony Lucassen haben werden - der seit vielen Jahren ein bekennender Fan vom Empire-Magazin und seiner Sampler-CD ist, wie er uns auch stolz zeigt...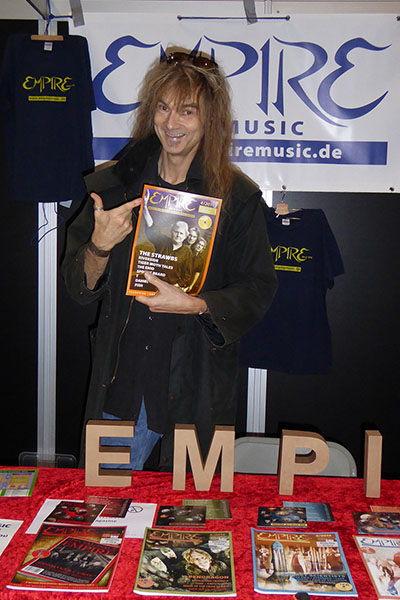 EMPIRE Heft 119
Die März-Ausgabe ist in die Post gegangen und sollte bei allen Abonnenten angekommen sein. Hier wie immer eine kleine Vorschau auf unsere Themen.
Das Heft kann auch einzeln im Empire-Music oder PPR Online-Shop bestellt werden.
Das alternative "Jewel Case"-Cover für die CD (zum selber Ausdrucken) steht hier in der Download Sektion zur Verfügung.
Wir wünschen Euch viel Spaß beim Lesen!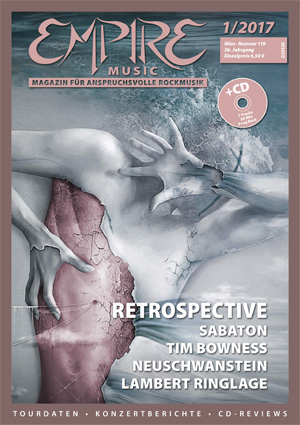 INTERVIEWS
RETROSPECTIVE (MD)
NEUSCHWANSTEIN (TS)
SPHERIC MUSIC / LAMBERT RINGLAGE (OM)
SABATON (VS)
TIM BOWNESS (SM)
LIVE Reviews
RPWL (STS)
TONBRUKET (BK)
PYRAMID PEAK / BK & S (STS)
ZAZIE (MC)
MOOP MAMA (MO)
BLIND EGO / SUBSIGNAL (MO)
MY SLEEPING KARMA (CT)
STERN-COMBO MEISSEN (BK)
THE PINEAPPLE THIEF (BK)
ELECTRONIC CIRCUS FESTIVAL (STS)
SLAPP HAPPY / WEEK-END FESTIVAL (MC)
CD/DVD Reviews
RUDY ADRIAN Coastlines (JM)
AMARAL Nocturnal (SM)
AMBER RUN For A Moment, I Was Lost (RK)
ANAKDOTA Overloading (JM)
AL ATKINS Reloaded (MD)
BAD DREAMS Déjà Vu (MD)
ERALDO BERNOCCHI Invisible Strings (JM)
BIG BIG TRAIN A Stone's Throw From The Line (JM)
BIRDPEN O' Mighty Vision (RK)
BLONDE ON BLONDE Rebirth | Reflections On A Life (MD)
MARK BOGERT Painting The World (JM)
BON JOVI This House Is Not For Sale (MS)
TIM BOWNESS Lost In The Ghost Light (SM)
ROLAND BÜHLMANN Aineo (MD)
KATE BUSH Before The Dawn (MC)
RANI CHATOORGOON Samsara (JM)
LEONARD COHEN You Want It Darker (MP)
SHIRLEY COLLINS Lodestar (MC)
CONSORZIO ACQUA POTABILE Coraggio E Mistero (JM)
CROWDED HOUSE Crowded House | Temple Of Low Men | Woodface | Together Alone | Afterglow | Intriguer (JK)
CURVED AIR Curved Space & Infinity (MD)
CYANNA MERCURY Archetypes (RK)
THE DEAR HUNTER Act V: Hymns With The Devil (TS)
THE DEARS Times Infinity Volume One (RK)
DISCO ENSEMBLE Afterlife (MS)
THE DOORS London Fog 1966 (JK)
DWORNIAK BONE LAPSA Fingers Pointing At The Moon (TK)
BOB DYLAN The Real Royal Albert Hall 1966 Concert (MP)
EDEN SHADOW Melodies For Maladies (TK)
ELBOW Little Fictions (TS)
ESQUIRE III - No Spare Planet (MD)
EXQUIRLA Para Quienes Aún Viven (SM)
FATAL FUSION Total Absence (MD)
FEWJAR Until (TS)
FLAMEN DIALIS Dokitoe - Las Vegan (JM)
FOCUS Live In Europe | Live In England (MD)
THE GIFT Why The Sea Is Salt (MD)
GÖSTA BERLINGS SAGA Sersophane (TK)
HEDFUZY Hedfuzy (MD)
THE ID The Masque (MD)
INGRANAGGI DELLA VALLE Warm Spaced Blue (JM)
IQ Scrape Across The Sky (AS)
JEAN-MICHEL JARRE Oxygène 3 (OM)
JETHRO TULL Stand Up - The Elevated Edition (JK)
FRYDERYK JONA Warm Sequencing (STS)
PATRICIA KAAS Patricia Kaas (MP)
KARIBOW Man Of Rust (MD)
THE MARCUS KING BAND The Marcus King Band (MP)
KING CRIMSON On (And Off) The Road 1981-1984 (MP)
LA BOCCA DELLA VERITÀ Avenoth (JM)
LEVIATHAN The Legendary Lost Elektra Album (MD)
LIMESTONE WHALE Limestone Whale (MO)
LITHIUM DAWN Tearing Back The Veil I: Ascension (RK)
LUCIFER'S FRIEND Too Late To Hate (MD)
MARILLION Marbles In The Park (TK)
MASCHINE Naturalis (RK)
MELLER GOLYZNIAK DUDA Breaking Habits (MD)
METALLICA Hardwired... To Self-Destruct (JK)
METAMORPHOSIS The Turning Point (MD)
THE MUTE GODS Tardigrades Will Inherit The Earth (SM)
NORTH SEA RADIO ORCHESTRA Dronne (JM)
THE NOTWIST Superheroes, Ghostvillains + Stuff (PV)
NOVATIA Reflection Of Thoughts | (MD)
OFFWORLD Some Circles Are Square (JM)
MIKE OLDFIELD Return To Ommadawn (OM)
ONE OK ROCK Ambitions (RK)
PAIDARION FINLANDIA PROJECT Two Worlds Encounter (JM)
PAIN OF SALVATION In The Passing Light Of Day (RK)
RICHARD PALMER-JAMES Takeaway (MD)
THE ALAN PARSONS PROJECT Tales Of Mystery And Imagination (AS)
PATCHWORK CACOPHONY Five Of Cups (JM)
PRESENCE Masters And Following (JM)
PRETTY MAIDS Kingmaker (AS)
BOBBY PREVITE Mass (JM)
PYMLICO Meeting Point (MD)
RAINBOW Memories Of Rock - Live In Germany (JK)
RED SAND 1759 (UE)
RETROSPECTIVE Re:Search (MD)
THE ROLLING STONES Blue & Lonesome (MP)
SAMARKANDE Ouèlle? (JM)
KLAUS SCHULZE Another Green Mile (PV)
KLAUS SCHULZE Dig It (PV)
SOEN Lykaia (SM)
SPIRITS BURNING & CLEARLIGHT The Roadmap In Your Head (MD)
STARFISH64 An Altered State Of Joy (JM)
STING 57th & 9th (MS)
T Epistrophobia (RK)
THIS WINTER MACHINE The Man Who Never Was (MD)
U.K. Ultimate Collectors' Edition (AS)
VARIOUS ARTISTS Silver (OM)
VIPASSI Sunyata (MS)
JOHN WETTON The Official Bootleg Archive Vol. 1 (MD)
WHITE WILLOW Future Hopes (MD)
LISA WHO Sehnsucht (TS)
THE WHO My Generation (JK)
X-PANDA Reflections (JM)
QUICKIES
ALL THEM WITCHES Live.In.Brussels (RK)
TORI AMOS Boys For Pele (JK)
BOY & BEAR Live At The Hordern Pavilion (RK)
CELESTIAL VOYAGER Celestial Voyager (JM)
TOM CHAPLIN The Wave (JK)
DEERBORN Crash And Burn (RK)
ENDO Nuclearte (JM)
FOX The Fox Box (MD)
FREE NELSON MANDOOMJAZZ The Organ Grinder (JM)
GANDALF Journey To An Imaginary Land (MD)
HAWKWIND The GWR Records Years 1988-1991 (MD)
HIGHLY SUSPECT The Boy Who Died Wolf (RK)
JIMMY EAT WORLD Integrity Blues (RK)
JUD Generation Vulture (RK)
JOHN LEGEND Darkness And Light (RK)
LINT Then They Came For Us (RK)
JON LORD Before I Forget (MD)
MAGNUM The Valley Of Tears - The Ballads (JK)
GREGOR MEYLE Die Leichtigkeit Des Seins (RK)
THE MIGHTY N Retribution (RK)
MOTHER'S CAKE No Rhyme No Reason (RK)
MÖTLEY CRÜE The End - Live In Los Angeles (JK)
THE MUGSHOTS Something Weird (JM)
OBAKE Draugr (JM)
ROBERT PEHRSSON'S HUMBUCKER Long Way To The Light (RK)
IGGY POP Post Pop Depression (RK)
PROGRESSION Noxologic (JM)
QUEEN Queen On Air (JK)
RAVENEYE Nova (RK)
THE ROLLING STONES Havana Moon - Live In Cuba (JK)
RUN RIVER NORTH Drinking From A Salt Pond (RK)
STYX Live At The Orleans Arena, Las Vegas (JK)
TIGER LOU The Wound Dresser (RK)
UNDERGROUND ATTACK First Of The Last Thirteen (JM)
URIAH HEEP Words In The Distance 1994-1998 (MD)
WILD THRONE Harvest Of Darkness (RK)
WOLF PEOPLE Ruins (RK)
EMPIRE Sonderheft
Das erste EMPIRE MUSIC Sonderheft wurde verschickt. Zum Anlass des 10. Jubiläums des "Night of the Prog" Festivals in diesem Jahr - und im 25. Jahr unseres Magazins - erschien das große und opulent bebilderte Jubiläumsheft "A Day in the Life of a Festival".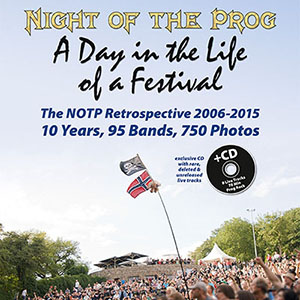 Bestellung und alle Einzelheiten dazu auf der Sonderseite www.empiremusic.de/loreley