Empire Music Sonderheft 1

Das EMPIRE MUSIC Sonderheft zu 10 Jahren NOTP (2006-2015).
Zum Anlass des 10. Jubiläums des "Night of the Prog" Festivals in diesem Jahr - und im 25. Jahrgang unseres Magazins - ist im Juli das große und opulent bebilderte Jubiläumsheft "A Day in the Life of a Festival" erschienen.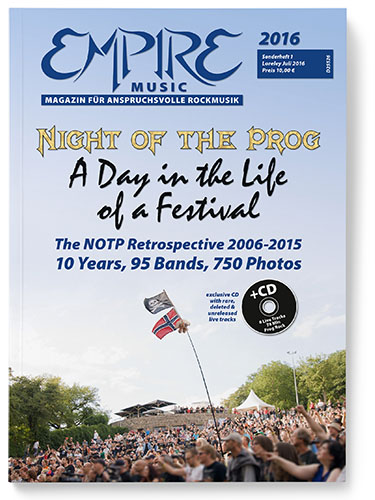 Exklusiv für Empire haben 6 der offiziellen Festival-FotografInnen ihre Bild-Archive geöffnet, und wir sind stolz, in diesem einmaligen Sonderband die besten Aufnahmen von allen 95 Bands, die jemals auf dem Festival gespielt haben, mit über 750 Fotos zu präsentieren: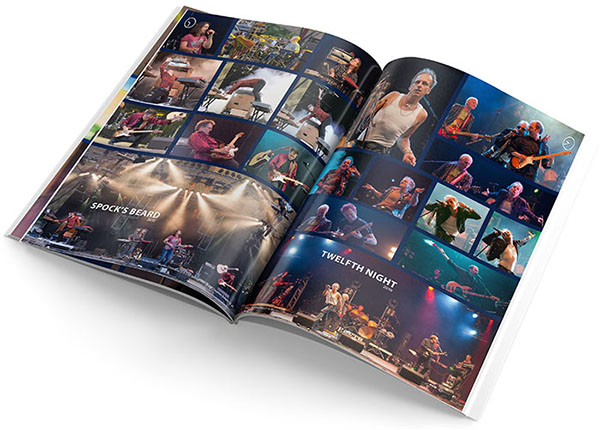 Und als besonderes Extra enthält das Sonderheft erstmals nicht eine CD mit Auszügen aktueller Studioalben, sondern 78 Minuten Live-Tracks mit seltenen, vergriffenen und unveröffentlichten Raritäten von 8 Bands der letzten 10 Jahre!
ARENA Valley Of The Kings (Europe 2011)
GALAHAD Empires Never Last (Poland 2006)
IQ Until The End (Loreley 2014)
LAZULI Les Malveillants (Loreley 2012)
PENDRAGON Indigo (Poland 2011)
RPWL 3 Lights (Germany 2005)
SUBSIGNAL Paradigm (Germany 2012)
TRAUMHAUS Bleibe Hier (Belgium 2010)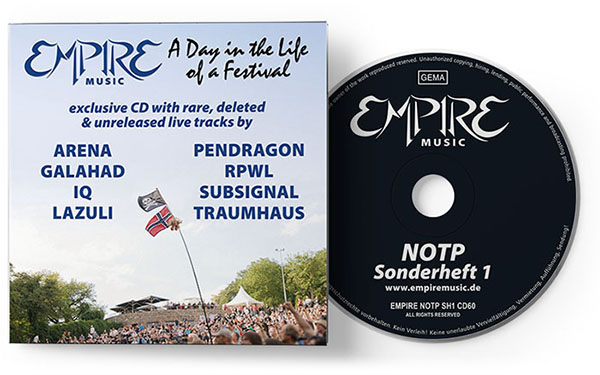 Das hochwertige Sonderheft mit über 750 Live-Fotos von der Loreley Freilichtbühne und einer exklusiven CD kostet 10€ (plus 3€ Porto).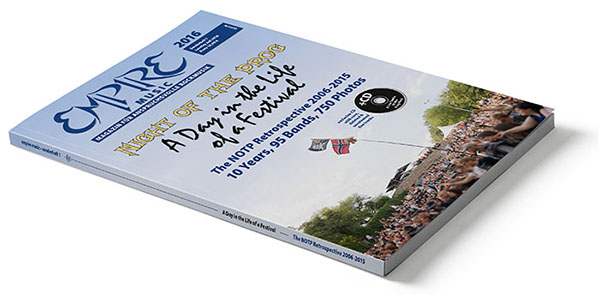 Agents Of Mercy, Airbag, Also Eden, Amplifier, Anathema, Änglagård, Anima Mundi, Arena, Ars Nova, Asia, Barclay James Harvest feat. Les Holroyd, Be Gabriel, Beardfish, Camel, Caravan, Central Park, Clepsydra, Collage, Crippled Black Phoenix, Dream The Electric Sleep, Dream Theater, Echoes, Eloy, The Enid, Enochian Theory, Fish, The Flower Kings, Frequency Drift, Hasse Fröberg, Galahad, Gazpacho, The Gentle Storm, Gran Turismo Veloce, Steve Hackett, Haken, Hipgnosis, Roger Hodgson, IO Earth, IQ, Isildurs Bane, It Bites, Jebo, Jethro Tull, Kaipa DaCapo, Katatonia, Knight Area, Lazuli, Lesoir, A Liquid Landscape, Long Distance Calling, Luna Kiss, Magenta, Magma, Marillion, Martigan, Maybeshewill, The Merlin Bird, Moongarden, Neal Morse Band, Mostly Autumn, Opeth, Pain Of Salvation, Pallas, Pendragon, The Pineapple Thief, Mick Pointer & Friends, Prisma, Quidam, Riverside, Steve Rothery Band, RPWL, Saga, Sanguine Hum, Klaus Schulze & Lisa Gerrard, Seconds Out, Sky Architect, Solar Moon, Solstice, Sound Of Contact, Special Providence, Spock's Beard, Subsignal, Sylvan, Synaesthesia, Tangerine Dream, Three Friends, Threshold, Devin Townsend Project, Transatlantic, Traumhaus, Twelfth Night, Vanden Plas, The Watch, Ray Wilson, Steven Wilson
Das Bestell-Formular (inklusive länglicher Widerrufsbelehrung, zu der wir verpflichtet sind) kann hier heruntergeladen werden:
Bestell-Formular (PDF-Download)
Das Sonderheft kann auch einfach im Empire-Music CD-Mailorder Shop www.empire-music.de oder im PPR-Shop www.ppr-shop.de bestellt werden. Die nachfolgenden Buttons öffnen jeweils eine Suche in den Shops in einem neuen Fenster/Tab.